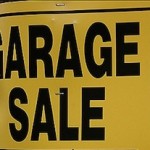 A very common sight when driving through the suburbs of Auckland are signs stapled to lamp post advertising garage sales that will be taking place over in the area. On the odd occasion I will drive past a garage sale in progress and a lot of the time, it doesn't look like it would be worth my while to stop and see what they have on offer. People hold garage sales for various reasons, which could include de-cluttering and selling off items or selling because of a need for quick cash. Whatever the reasons may be for holding the sale, it is always nice to do it in such a way that you get the most revenue from your efforts.
Here are a few quick pointers that may come in handy if you are planning a garage sale in the near future:
Plan: just like anything else in life, it is good to plan for the sale. Set a date for when you are going to have the sale, what you are going to sell and make sure you have enough stuff to offer to actually warrant having the sale.
Price: set a price for EVERYTHING you plan to sell and don't price it too low, keeping in mind that you want to make the sale worthwhile to you. Set reasonable prices and allow for negotiation and with that said, have a minimum price at which you are willing to let go of items for.
Advertise: it goes without saying that you need to let people know about the sale. It is probably best to start advertising a week or so before the sale. Put clear signs up around your neighbourhood and drive by them to make sure they are readable. If you have a few dollars to spare, a good place to advertise would be your local newspaper.
Presentation: lay out your items in the area where you are having the sale in such a way that your "big ticket" items are what your customers will see first. Also make sure that there is enough space for people to comfortably walk through and take a look at what you have on offer.
Payment: Make sure you have plenty of change on hand from different denomination coins to bills. You want to make the payment process nice and easy. It can be frustrating for a customer when they experience a problem of trying to pay for something because you don't have change. If your customers don't have cash, you could offer other payment solutions such as Pago (New Zealand), PayPal Mobile (Worldwide) or Square (U.S.) as options.
2 Extras Tips:
Keep cash on your person: can you imagine it drawing to the end of a successful sale and someone comes along and walks away with your cash box?
Consider a group sale: if you are friends with your neighbours, consider having a group sale and make it even more worthwhile for everyone.
Do you have any other tips to make a garage sale successful?
"Garage Sale" Photo by enfocar1200