Millions of people around the world love to travel and do so on a regular basis. This passion may have born about as a result of wanting to see all that the world has to offer and that in itself can range from people, culture, history and places, just to name a few. For some, it may just be an annual get away from their daily grind that gives them a chance to reset.
Whatever peoples' reasons may be for wanting to travel, one thing that a lot of travels want to do during their travels is experience their destination as if they were a local. That is something that can be easily done if travellers happen to have family or friends wherever said destination is. Besides showing travellers or pointing them towards the mainstream tourists attractions, they could also show them the 'real' local sights and sounds. This give them the opportunity to get a better feel of what life is like wherever that place may be.
But, knowing someone (on a personal level) wherever travels may take people isn't always going to be the case. Not having someone to show them just how the locals live can leave that adventurous traveller in a bit of situation. But, for an entrepreneurial local who knows their way around their city, it presents the opportunity to be that guide who can fulfil the tourists need for a real local experience.
How to become a local tour guide
If becoming a local guide is something that you want to do, there are a number of ways of going about it without having to put yourself out there and going it alone in the hopes that your offering will attract travellers. There are a number of websites and apps that can help you with that.
These service providers are already established in their own right and best of all, they already have a decent number of travellers looking through their listings in search of unique local experiences. The experiences can range from taking people through Mbare (one of the townships in Harare, Zimbabwe) for a first hand experience of how people there live or indulging in the street food culinary delights that Ho Chi Minh has to offer or even a spiritual journey through Delhi.
There are a number of platforms that you can turn to to create and market the unique and authentic journeys that you can come up with. Here are three to consider:
Triip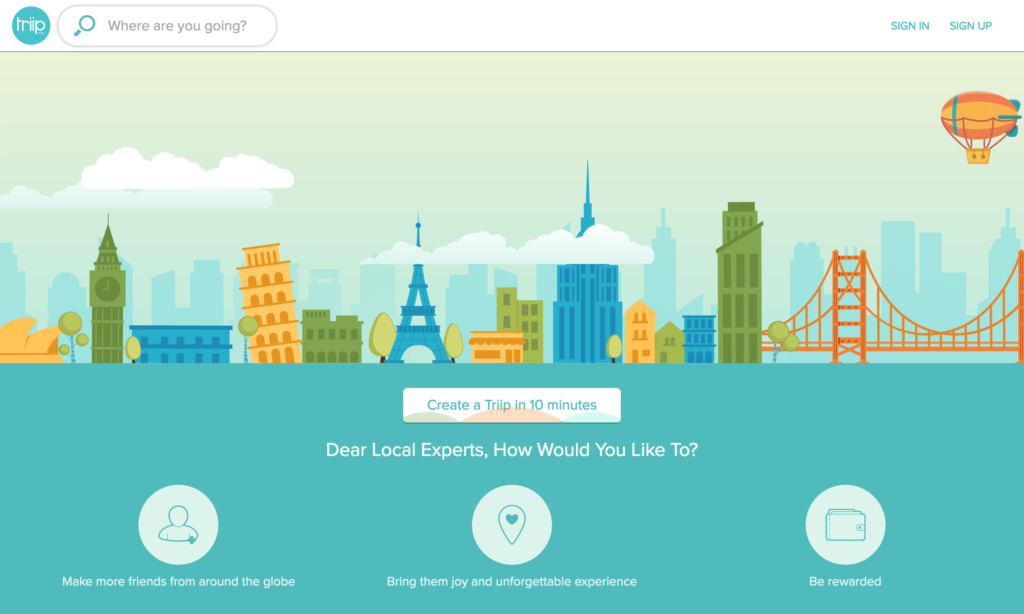 Born in Vietnam, Triip.me in their own words, "It is about connecting people, about sharing experience, about localizing travel and about preserving culture". Their platform provides a places where people who want a local experience can search for and book tours to suit. For local experts, it provides a place to list and market as many experiences as can be possibly fulfilled.
As of the writing of this post, they are available in 93 countries around the world. Armed with relevant photos, a story to tell, their site states that it takes about 10 minutes to create a Triip. It is completely up to the creator to price the experience. It is free to list tours and they charge a processing fee of 10%. Creators get paid for successfully completed tours via PayPal and can request a withdrawal at any time.
Vayable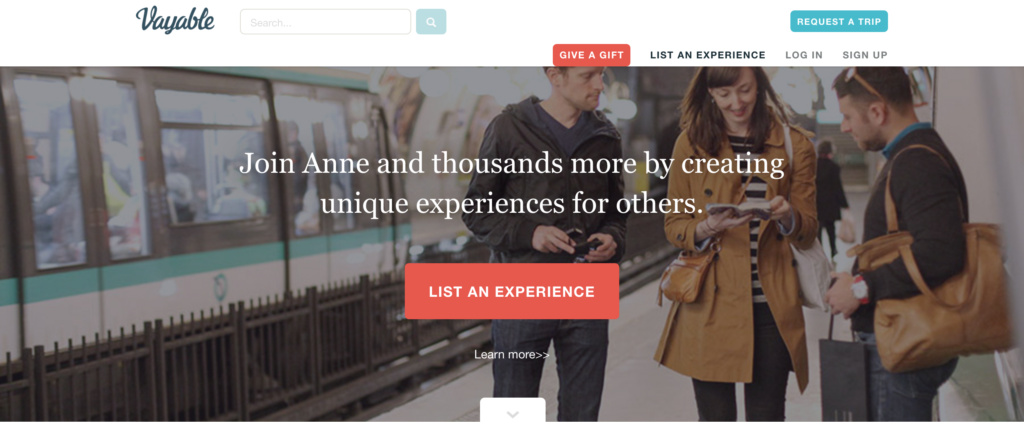 Vayable is another platform that provides a service very similar to what Triip has to offer. At first glance, it may seem like they have more of a focus on U.S. and European destinations but, they do say that they have 5000 'Insiders' (what they call their local guides) in 600 cities around the world.
Their platform has flexible scheduling which allows insiders to accept or decline tour bookings according to their availability. Payments for booked experiences are paid out via direct deposit (ACH) in your local currency and can be as quickly as within 24 hours of the tour starting (depending on your location).
As far as fees are concerned, they are significantly higher than Triip's. Listing experiences is free. Traveler's are charged a 3.9% service fee and Insiders are charged a 25% commission on bookings.
Withlocals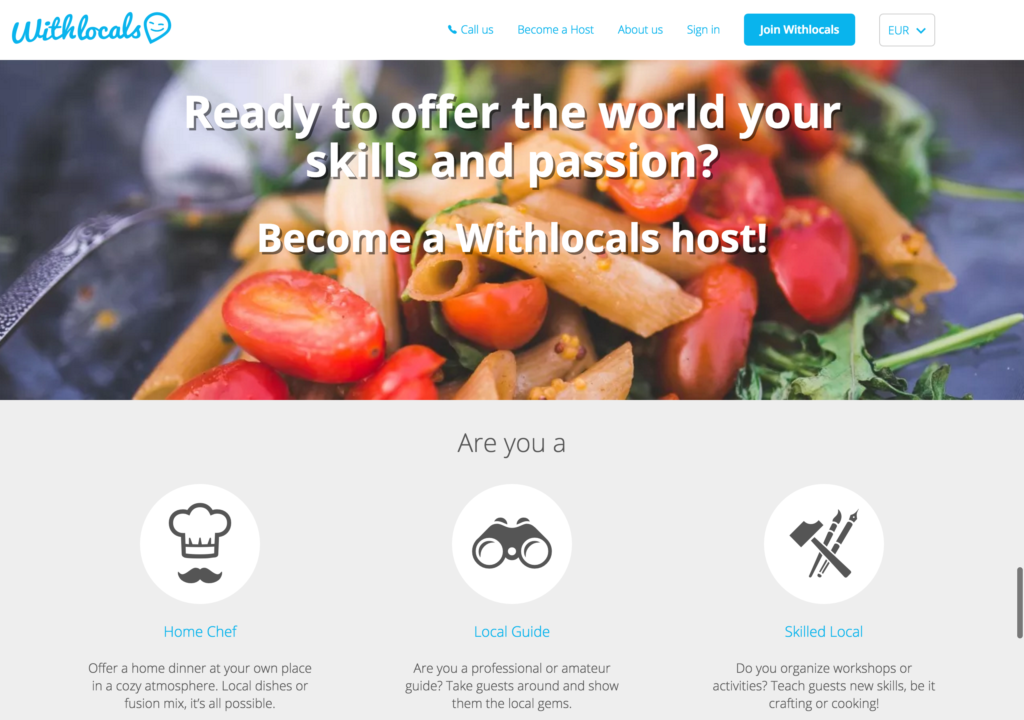 Next up with Withlocals who once again offer services that are similar to what Triip and Vayable have to offer. Their major point of difference is that their services extend past tours into eating experiences and activities but, they only have a presence in 11 countries across Europe and Asia.
It gives people the opportunity to sign up as hosts who offer dinner parties in your home. Food is a cornerstone of many a culture and for many travellers, getting to experience local food in this kind of a setting is something that they may be looking for.
As far as activities go, experts in a certain can sign up as hosts and organise activities such as teaching guests a certain local craft or how to cook a local dish.
Payments to hosts are made via PayPal within three days after the end of the experience. If you as a host don't have a PayPal account, there is the option where guests pay in cash less the Withlocals 20% service fee.
There you have it! There are a whole lot more providers to chose from and at the end of the day, it is all about choosing one or maybe even a couple that you are comfortable with and are a good fit for you and what you have to offer. To increase your chances of success as a local guide make sure that whatever offerings you list are unique and most of all, will give guests an unforgettable local experience.
Bonus tip: Supplement your income as an Airbnb host
If you do go ahead and start offering local experiences, one other thing that you should consider if you haven't already done so is becoming an Airbnb host. If you have an entire house, apartment or just a room free, it could see you earning a little extra money. If that hasn't crossed your mind, take a look at what is takes to become an Airbnb host to see if it would be worth your while.