This is a quick review of a book that I think anyone who is looking to go into business for themselves should read. It was written by Mike McDerment (Co-founder & CEO of Freshbooks) and Donald Cowper (FreshBoooks Business Writer) and only takes about an hour to read through. It is well worth the read if you want to get paid what you are really worth and/or increase your earning potential. Best of all, it is available free of charge.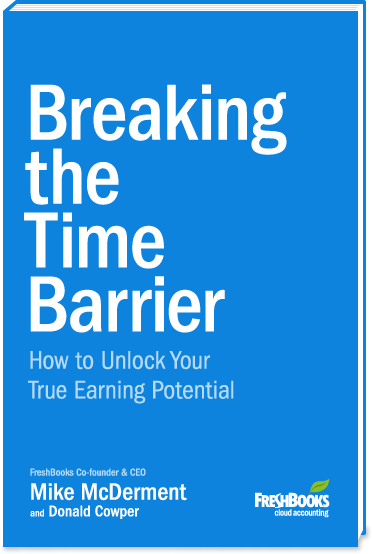 Many of us dream of and some go on to start our own businesses, some of which are a result of a life long passion or a particularly useful and sought after skill that has been acquired over time.
A challenge that some may face as they venture into the world of being their own boss is pricing their services. Think about this yourself for a minute, if you aren't working for yourself as lets say a consultant or freelancer of some sort but are thinking about it, how are you going to price your services when you take that step?
This book covers just that and takes you on a short journey that looks at how you should price your services. If you are already working for yourself, it may get you to reevaluate how you are pricing your services.
It starts off by taking a look at the cost-plus pricing model and explores the benefits of a shift to a fixed price model. It looks at the fixed price model as being value based since it places emphasis on value that your services provide to your clients versus being a business that simply provides a service.
Pricing is important but as far as the client is concerned, their main goal is to get a fix for the problem they are experiencing or to fulfill a particular need. That said the first thing that should be discussed is what it is they are trying to achieve and established how you can assist. The discussion will eventually lead to a point where you put forward a solution or solutions (that ADD VALUE) at a premium price.
Owing to the fact that you have established that you can ADD VALUE, a proposal has a much better chance of being accepted and see you getting paid more than you would using a cost-plus pricing model.
Breaking the Time Barrier can be downloaded at the following: http://www.freshbooks.com/breaking-the-time-barrier
Don't forget to share this with your networks.
Try FreshBooks Free for 30 Days
 (No credit card required)