NOTE: Google Helpouts is no longer available
Google recently launched a new product that opens up people who need help in a wide range of areas to a world of subject matter experts. The aptly named Helpouts platform is powered by one of their Google+ product offerings, Hangouts.
What Helpouts does is that it allows people who need help with something such as say for example, putting together a personalised marathon training program, connect with experts in a live one-on-one session. Helpouts isn't anything new as it is a product offering akin to what Skype Prime used to offer. The difference here is that it is a Google product and that said, Google will probably find a way of sneaking Helpout provider listings into search results. And, it seems a whole lot easier and more user friendly compare to what Skype used to offer.
Helpouts are currently available in the following categories; Art & Music, Computers & Electronics, Cooking, Education & Careers, Fashion & Beauty, Fitness & Nutrition, Health and Home & Garden. Helpouts come at a cost that is determined by the provider but some of them are offering their services free of charge. Given that it is a relatively new service, it is currently only available in the U.S., Canada, the U.K., Ireland, New Zealand and Australia. It will however be made more widely available with the passage of time.
How Do I Make Money From Helpouts?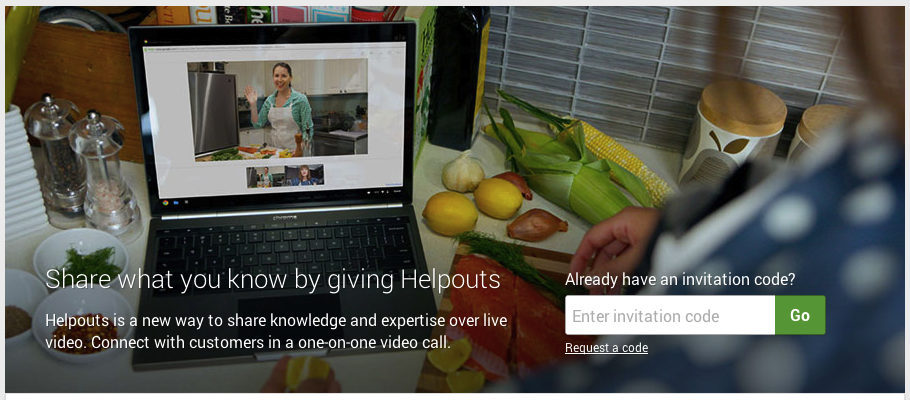 Given the brief summary above on what Helpouts is all about, it should be plain to see how you can make money as a provider. It's all about helping people out and solving their problems using what you already know, are good at and/or passionate about. The advice that you give may not necessarily be what you do as a profession, it could be something you do as hobby and just love!
Besides being an expert in your field, one of the more important things that you will need to get set up as a provider is a Google+ account. At the moment, becoming a provider is by invitation only but you can express your interest and request an invitation code which will be sent out when they start accepting more applications.
As a provider, you are left to your own vices when it comes to charging for your services and you can set a price on what you think you are worth on a per minute or per session basis. Google charges a transaction fee of 20% so if you set a price of $10, $8 goes to you and $2 to Google. To receive customer payments, a Google Wallet is required and from thereon in, balances are paid out into a linked bank account.
One good thing about the service is that Helpouts can either be instant or scheduled so you can set the times at which you'll be available. This gives you time to plan and I am one of those people who believes that planning is one of the keys to success for anything. People who seek and get the help they need are encouraged to write a review. So, it's important to make every Helpout count!
Do you think this is something that could work for you?