One thing that comes with the purchase of a device such as an iPhone is the need for a good data package. Getting the most out of your phone's functionality as well as using a lot of the apps that you will eventually download will chew through your data plan. Some mobile operators provide data services at a premium and being the data addicted consumers we are, we pay for it even though we wish it was cheaper.
That said, there is an app out there that will help you save on mobile data charges. Onavo developed a system that compresses data before it reaches your phone. They claim that their technology can shrink data by as much as 80% which for you could mean big saving.
How it works:
How it all works can be summed up in the image below: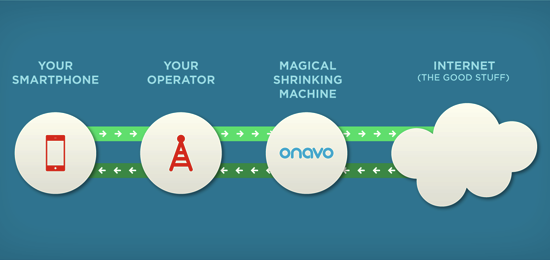 Features:
In addition to shrinking data, the application also provides iPhone user with insights into which apps are consuming the most data. This serves to help you get a better understating of and manage your data usage better.
The application also gives you control over what data gets compressed, such as image quality or not having emails data being compressed at all.
The Onavo is free at the moment but will come at a cost in the future. So, if you plan on giving it a go, download it now and see if it is worth it. Android users will also be able to enjoy the benefits of saving on their data as Onavo plans to release an Android version soon.