Once a blog is up and running, some site administrators get to work on setting up and growing an email list.They employ various methods which include sign-up forms strategically placed on various parts of the site, pop-ups, toolbars and the list goes on and on. One question that some may ask is "why have a list?"; which can be simply answered by saying that the list presents a marketing opportunity for your site, product(s) or business.
As far as blogs go, one thing that a lot of them have is commenters. If they aren't already subscribers, there are a couple of methods that can be implemented to encourage them to sign-up to your list when they leave a comment. These are as follows:
1. Comment Redirect

I recently left a comment on a blog and after clicking the submit button, I was taken through to a thank-you page and one where I was encouraged to subscribe to an email list. I ended up subscribing to the list and after which I emailed the blogger to find out how he managed to set that up; the answer, via a plugin!
Comment Redirect is a plugin that directs first time commenters to any page of your liking. As in the case of the example above, the easiest and probably most effective thing to do would be to set-up a page with a short thank-you message and directly under that encourage the commenter to sign-up to list and of course add a signup form to make the process nice and easy for them.
What I like about this plugin (besides the fact that you are taken through to a thank-you page) is that commenters are only redirected the first time that they leave a comment. They are not redirected to the page for subsequent comments they may make which is a good thing because it could get annoying for those leaving multiple comments on a site.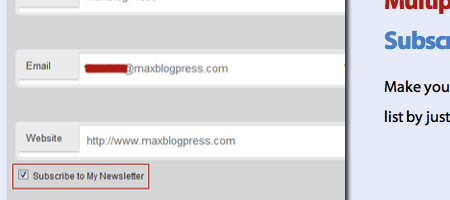 2. Subscribe Checkbox
Another method to encourage commenters to subscribe is by placing a check box underneath the comments box. This method makes it easy for commenters to subscribe as they have already entered their name and email address as part of the commenting process. When they leave a comment with the box checked, their details are automatically added to your list.
There are a couple of ways through which you can add this extra checkbox to your blog.
The first being via the use of the WP-Leads plugin (free). It is a simple plugin to use but is somewhat limited as it only integrates with MailChimp, Constant Contact and SalesForce.com.
The second is by using the Subscribers Magnet plugin (paid) by Maxblogpress. One plus about using this plugin is that it integrates with any email marketing software versus the 3 that WP-Leads offers. To add to that, Subscribers Magnet also provides a variety of other channels through which you can grow your list and these include footer forms, sidebar opt-in forms and personal emails to commenters just to name a few; and best of all, all of this can be achieved using only one plugin.
If you haven't already done so, you could give these simple methods a try to see if they can boost your subscriber numbers.