eBay is marketplace that many of us have visited to either buy or sell just about anything we can think of has been around since 1995! From when they first started to where they are today, a number of online competitors which includes traditional brick and mortar retailers have come onto the e-commerce scene. This increase in competition has meant a continual rethink of strategy for their continued success.
Lately they have been employing new technologies to make your shopping experience more relevant and personalised thus making it easier to find the exact items you are looking for. With their already low price offering on millions of items, they are working hard to make sure that they offer you what you want at the lowest price online with their new price match guarantee.
Price Match Guarantee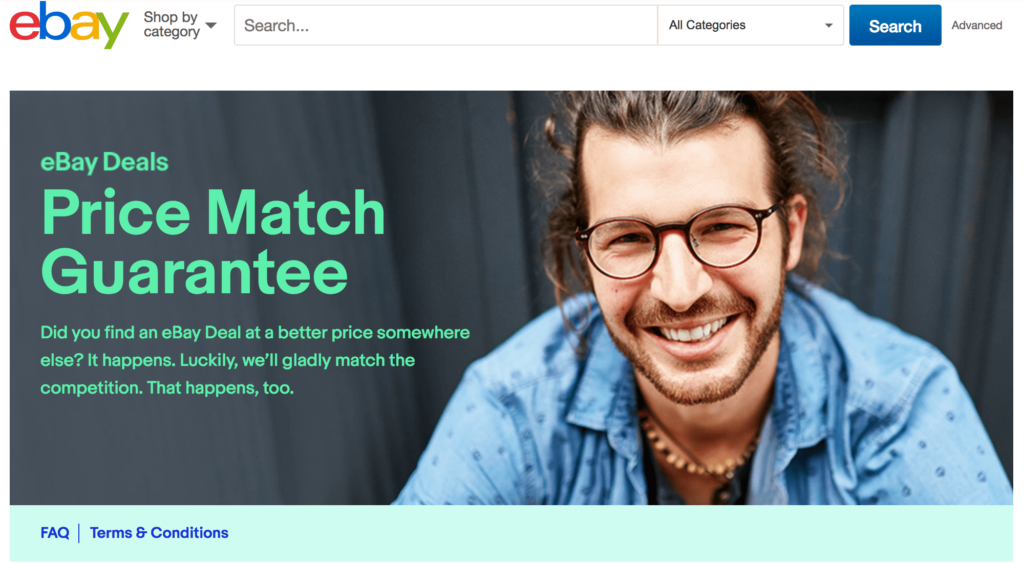 As it stands, you will find really good deals in the eBay Deals section. What the company is now doing is that if you find something being offered for a lower price by one of their competitors (which at the moment include Amazon.com, BestBuy.com, Jet.com, HomeDepot.com, Sears.com, Target.com, Walmart.com & Wayfair.com), they will match the price. To qualify for the price match, the item has to be brand new on the Deals page (90% of the items are), is found on a competitors website and must be identical and available.

When you've found an item, before you buy, you'll need to contact customer service with the eBay item number (which can be found in the upper right corner of the description tab in the listing) and the competitors name or web address. They say the price match will be verified on the spot and once thats done, you'll get a coupon for the difference to complete the purchase.
One really good thing about this guarantee is that it doesn't cost you a thing! You Don't have to have a subscription to take advantage of low prices (so yes, if its on Amazon Prime then you can get it for that price on eBay). To add to that, they also have a money back guarantee and guaranteed delivery in three days or less which all add up to a better shopping experience.
On the US and UK sites, they do state that in order to participate, buyers have to be residents of those respective countries. But, purchases can be initiated from outside of those countries as long as the purchased item is shipped to an address within the country. For people lets say for example living out of the US, a work around may be to us MyUS to get those items to where you are in the world.
Visit eBay today and score yourself some awesome deals!