A few days ago I was watching "Housewife Superstars" on 60 Minutes which looked at how more and more women are dropping their careers and going back to being stay at home mums to look after their kids and husbands. Some families are able to get by just fine on one income but others may struggle to get by on one income and that is something that was working on me for a minutes. That was until Sonia Williams came along and we got to know more about her and what she does.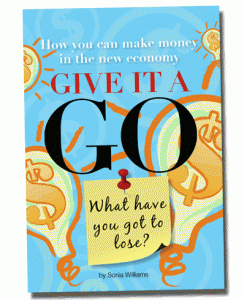 Sonia worked as an accountant but when her family came along, returning to work wasn't easy. Her decision to become a stay at home mom brought on the need to supplement the family income and she set up a small business that specialised in wedding photography. The business was very successful and after being asked the same sort of questions by budding "mum entrepreneurs", she wrote Show Mummy the Money which outlines how mums can find the right idea, turn it into a reality and start a small business. Besides her book, her site Show Mummy the Money has a wealth of information on where you can get help on starting a business.
Sonia's latest book "Give it a GO" What have you got to lose? with the tagline 'how you can make money in the new economy' is something very fitting in this economic climate where so many of us are looking to make some extra money. The book delves into the world of the direct selling industry and reveals the keys to unlocking the opportunities that the industry has to offer. Sonia has done all the hard work and interviewed hundreds of distributors in the industry and you can learn from the real life success stories featured in the book. This 'hidden industry' has been the key to financial freedom for many people around the world and there is nothing stopping you from achieving the same success.
Win a Copy of Give it a GO
Sonia was kind enough to offer her book as a giveaway for one lucky reader. In order to be eligible to win the book you have to do one OR all of the following:
Subscribe to Show Mummy the Money newsletter (leave a comment to let me know you have subscribed) – 3 entries
Write a post about "Give it a GO" and the giveaway – 2 entries
Tweet the following –

Win a copy of 'Give it a GO'. @gerri50 is giving away the latest book by Sonia Williams. For details: http://bit.ly/HPatL #gerri50

– 1 entry
A winner will be randomly chosen on Sunday 26 July at 6pm (New Zealand Time).
Note: SMTM ships internationally so anyone can enter.
Sonia may have started off with mumpreneurs in mind but what she has to offer can be read by and will be useful to anyone and everyone who wants to start a business and be successful at it.