Before the advent of Feedly as one of the more popular feed readers, there was Google reader. Google reader was a tool that I used on a daily basis to stay up to date with topics that I'm interested. It was also a tool that I used to find and share relevant content with via social media. One good thing about Google reader was the ability to integrate various other tools with it to make sharing content that much easier such as integrating HootSuite into Google reader > here. 

Unfortunately, Google reader came to an end and Feedly became my reader of choice. One feature that Feedly didn't have up until recently was the ability to add custom send to URLs to allow users to share content from Feedly via their tool of choice. They just added this functionality but it comes at a cost. In order to create custom links, you have to have a pro account and this comes in at either $5/month, $45/year or $299 for a lifetime.
If sharing content from Feedly is something you want to do but you don't want to go Pro in order for you to do that, there is a workaround. All you need to do is install the new Hootlet for Chrome. It integrates with a number of services so for example, when you click on an icon to tweet a link, a Twitter box pops up and next to the "Tweet" button you are presented with a "Hootlet" button which when clicked allows you to share via HootSuite.
So, to share Feedly items via HootSuite all you need to do is:
Click on the Twitter icon (or Facebook)
Click on the Hootlet button
Chose the social profile through which you will share the content
Edit the update accordingly
Autoshedule or share the update there and then
DONE!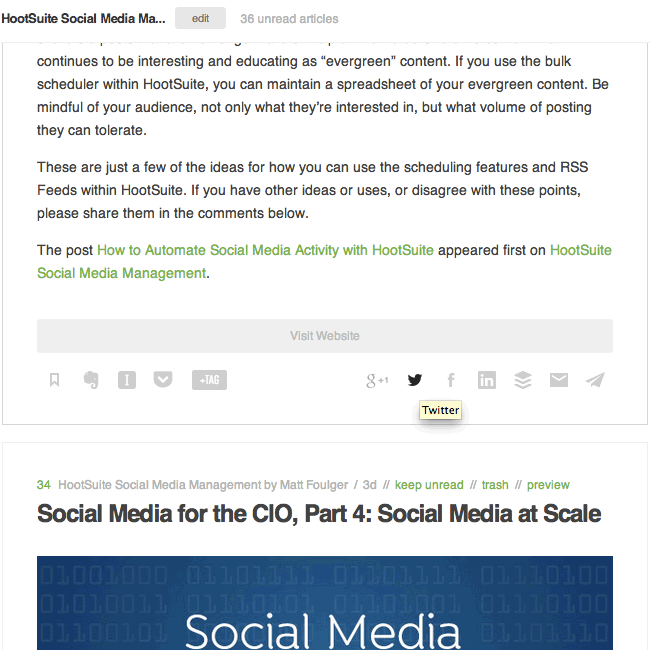 There you have it, a simple and easy way of sharing Feedly content via HootSuite without having to open new windows and even more so, signing up for a Feedly Pro account.
You can discover the benefits of HootSuite Pro by signing up for a Free 30 day trial today!