My brother flew to Zimbabwe a few days ago and during the process of preparing for his departure he estimated that he would have about 80 to 100 kgs of luggage in total. This presented him with a little challenge that he had to solve. His flights were booked with Emirates who offer a 30 kilograms standard checked baggage allowance in economy but that wasn't anywhere near enough allowance to allow him to get everything across to his destination.
With that in mind, he was aware of the fact that he was going to need to find a service to get the bulk of his luggage to Harare. The first option that came to mind was paying for excess baggage with Emirates but that idea was quickly scrapped because more often that not, majority of the airlines charge ridiculous rates. To humor himself, he took a look at what they would charge and; Yup!, the rates were ridiculous! The following are the rates for additional baggage with Emirates: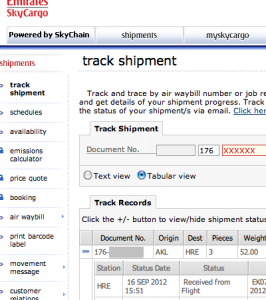 Online purchase of additional allowance:
– 5 kgs or less: NZD 360
– 10 kgs or less: NZD 720
– 15 kgs or less: NZD 1080
– 20 kgs or less: NZD 1440
– 25 kgs or less: NZD 1800
Excess baggage rates at the airport
– Price per kilogram: NZD 90
The final weight for his excess baggage came up to 52 kgs and by looking at the rates above, you can do the math and see that; that option was not at all viable. The only other option that came to mind was shipping the luggage off via a freight forwarder or excess baggage shipping provider.
After doing a bit of research, the best option seemed to be shipping via an excess baggage provider. The most economical option that he could find quoted him $9.50 per kilo plus a documentation fee of about $125. That seemed a lot more reasonable and he was about to take up the offer until he remember reading an article about Emirates SkyCargo increasing it's dedicated freighter services into Harare. This prompted him to get in touch with them to see if they had anything to offer and to his delight, they did.
Not only did they have an option, their service turned out to be the most economical at $7 per kilogram plus a $101 documentation fee to cover incidentals such customs and security clearance. The grand total to ship 52 kgs from Auckland to Harare with SkyCargo came up to $465.
The Benefits of Emirates SkyCargo
You don't have to be flying Emirates to use their services: you just need to provide them with a copy of your ticket
You can drop your luggage off to the at airport on day of departure (in his case we dropped it off on our way to International Departures [and allowed 30 minutes processing time])
It only takes 3 to 4 days for your items to reach their destination
You can track your items every step of the way
All three pieces that he shipped off got to Harare as promised, in a timely manner and nothing was damaged! My brother's comments on the service, "I couldn't have asked for anything more".
The next time you are travelling and have a lot of luggage that could see you paying a lot more than you need to or maybe even afford, think about giving Emirates SkyCargo a call to see if they can make you an offer that could see you saving hundreds and maybe even thousands of dollars.
Do you know of any other options that could see you saving more?