Last week, the shell for our Toyota Corolla key fell apart. Since all the internal bits and pieces were working just fine I saw it as a cheap, quick and easy fix. My first port of call for getting the shell replaced was Toyota but when I spoke to them, the notion of it being a CHEAP fix quickly vanished! The response I got was that it was impossible to replace the shell and that I would need to get a new key at a cost of $400 to $500!
As you can imagine, I took me a little while to get over the shock or trying to understand how something that should be a simple fix could cost so much. After I came to my senses, I listed out alternatives to getting the shell replaced.
One of the alternatives was to look for a replacement shell online and change it myself. This was the alternative I decided to explore first and the one that proved to be the best and cheapest solution. After a quick Google search I found that shells were available for purchase. This led me to TradeMe where to my delight shells were being sold and where I bought one for about $20 (they are also available on eBay – Toyota Key Shell
. The shell just arrived and after replacing the broken half of the shell with the broken one, my problem has been solved. And, I managed to save myself $400+ if I had gone with the Toyota option.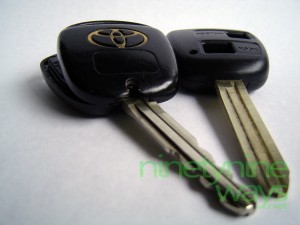 Depending on what kind of damage has been done to the shell, it may cost a bit more. The replacement shell comes along with a blank key so if the internal bits of the key with the damaged shell are still working, they can be transferred into the new shell. This would mean you having to go to a locksmith to get the key cut which in itself would not be an expensive exercise and will still see you saving hundreds.
Morale of the story; don't just accept quotes that you given. Have a think about other options and explore them. You may come up with something that is a lot cheaper and does the job you want it to do.