We as humans are wired in such a way that we consume visual content faster and easier than with words. The main types of visual content include video, screenshots, infographics, charts and graphs, comic strips, memes and the most basic of the all, a photo. Given that we are visual beings, it makes it no surprise that Facebook posts that include images see 2.3X more engagement compared to those that don't have images. Or Buffer reporting stats from their data where tweets with images had 150% more retweets than those without. It goes without saying that images dramatically increase engagement on social media.
In order to get maximum impact with images, they have to be relevant to the message. To get images to this point a little editing may be required to get them to that point as well as tweaking for brand consistency.
That said, there are a host of photo editing tools out there that allow us to quickly and easily create images. Some are online, some are desktop based and some are mobile/app. You will find a core set of features such as filters and the ability to add text on all of them. Each one will also have their own unique features that set them apart from the rest. Then of course, comes cost; some are free, some are freemium and some are premium.
With the choice that there is out there, choosing the right photo editing solution can be a pain. Without getting into a detailed conversation about the right solution, listen to what Donna for some inspiration:
At the end of the day, it all boils down to what you want to achieve and what product will best help you get that end result.
I have been a long time Photoshop user for image creation and editing. With the passage of time, this has included experimenting with other tools such Pablo by Buffer and more recently, Canva. In the case of Canva, it does what I need it to do especially for Instagram but, for what I want to achieve, it is a bit of a let down when it comes to the mobile app. For one of my Instagram brand account, I want to be able to make slight edits to photos and add a logo for brand identity.
Hootsuite Enhance
Hootsuite, the tool that I use to manage my social media presence recently launched a photo editing app, Enhance. Enhance comes with what you would expect from a photo editing app with features such as various filters and borders and stickers. Given that it is developed with social sharing in mind, it comes with the ability to crop images based on recommended images sizes for the various social platform such as Instagram, Facebook, Twitter, Pinterest and so on.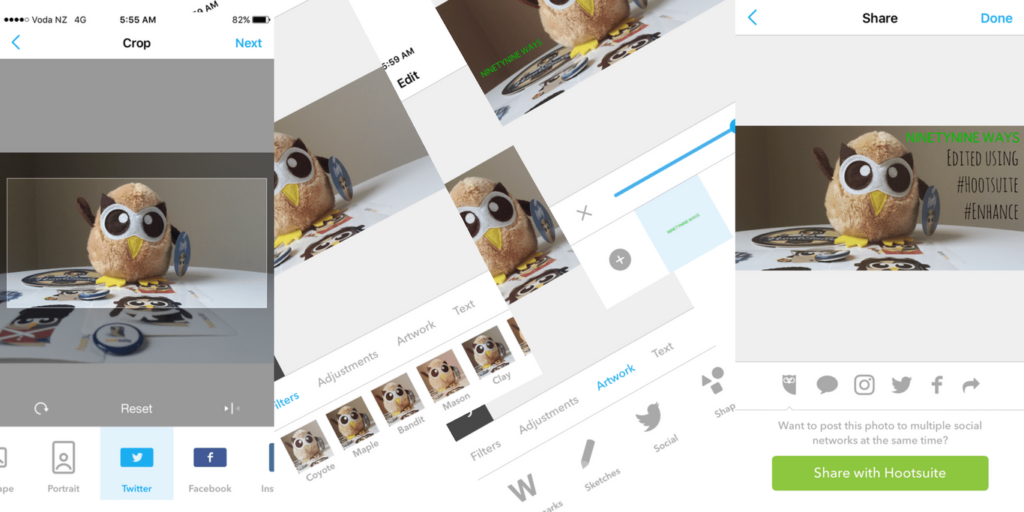 Stand out features of the app include but aren't limited to:
Stock photo database – besides being able to use your own images that you have stored in your photo library, you have access to a large database of stock photos. So, if you find yourself in situation where you don't have just the right image, you have a database at your fingertips from which to chose the perfect image to go with a social update.
Branding options – With 30 fonts to chose from, the app allows you to add text that fits your brand and messaging. To add to that, it includes a feature that I really like and that is the ability to add your brand identity in the form of a watermark/logo. The logo can be appropriately resized, moved around the image and have its transparency adjusted.
Easy social sharing – Once you have spent a few minutes creating the perfect visual, you can easily share it to multiple to multiple social networks using Hootsuite. All that you need to do this is Hootsuite Mobile.
Edited using the new @hootsuite photo editing tool, Enhance#Hootsuite #Enhance pic.twitter.com/6FRMRi2S7x

— Gerri Ndoro (@gerri50) November 9, 2016
The stats at the top of this post just go to show that how important visual content is when it comes to social media and the kind of impact that it can have on reach and engagement. If you aren't using images in your social updates, have
If you are looking for a social image editing tool that allows you to create/edit and then share to your social media channels on the go, visit the App Store (below) and give Hootsuite Enhance a go!