Kindle Publishing for Blogs has just been opened up by Amazon. It is a platform where bloggers can upload their blogs and get paid for their content based on the number of monthly subscriptions.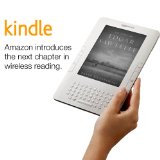 Signing up doesn't take too long and once you have put in your blog and feed details it takes 12-48 hours for it to be approved and made available on the Kindle Store. One thing that publishers do not have control over is setting subscription prices. Amazon sets the price for blogs based on what they deem as fair. Most of the blogs I've seen so far on the Kindle store range from $0.99 to $1.99. (Ninety Nine Ways on Amazon)
Publishers are paid royalties of 30% of subscription and single issue sales revenue per month. Revenue is paid out by cheque (once you have reached a minimum of $50 in earnings) or directly into your bank account (once you have reached a minimum of $10). Payments via cheque incur an $8 fee and electronic payments are only paid out into U.S bank accounts.
I think it is a bit of a long shot trying to make money from your blog via this channel but hey, you might have a blog that is that good and one which a lot of people are willing to pay a monthly fee to read on their Amazon Kindle.
Do you think it is worth your while?