We've all heard the saying "a picture is worth a thousand words" and this is something that Twitter has taken to heart. The social network which is (or was) primarily text based recently introduced in-stream image and video previews. Prior to the change, users had to click on a link in order to view images or Vine videos and now a preview appears in the feed. As you can imagine, this move was popular with some and very unpopular with others. Whatever the case may be, it is here to stay and it should be embraced.
We are visual creatures which makes visual content a powerful marketing tool. That said, Twitter's in-stream previews is something that marketers and brands show pay attention to and use to their advantage. Previews present an opportunity to maximise on the new space and increase engagement.
To make the most of this feature, it's not just a case of uploading an image to Twitter and getting a message or part of the message across in the preview. It is after all a preview and depending on the size of the image, people may need to click on it to expand it to see the full image. With that being the case, the preview may not do justice to the message you are trying to get across.
Here are a couple of examples of images preview that in my opinion did not work so well:
Air New Zealand's preview image shows two people's bottom half and really doesn't catch my attention but the expanded image tells a different story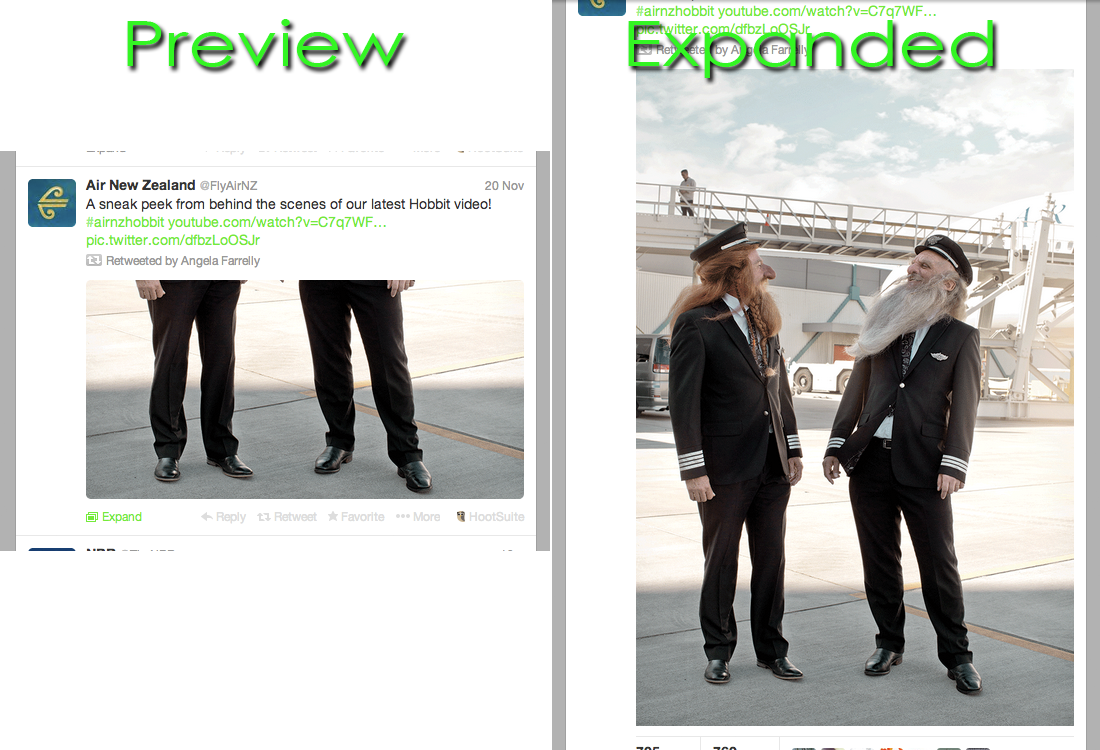 Qantas' preview image shows the Kangaroo logo with part of it cut off and when expanded it reveals their cause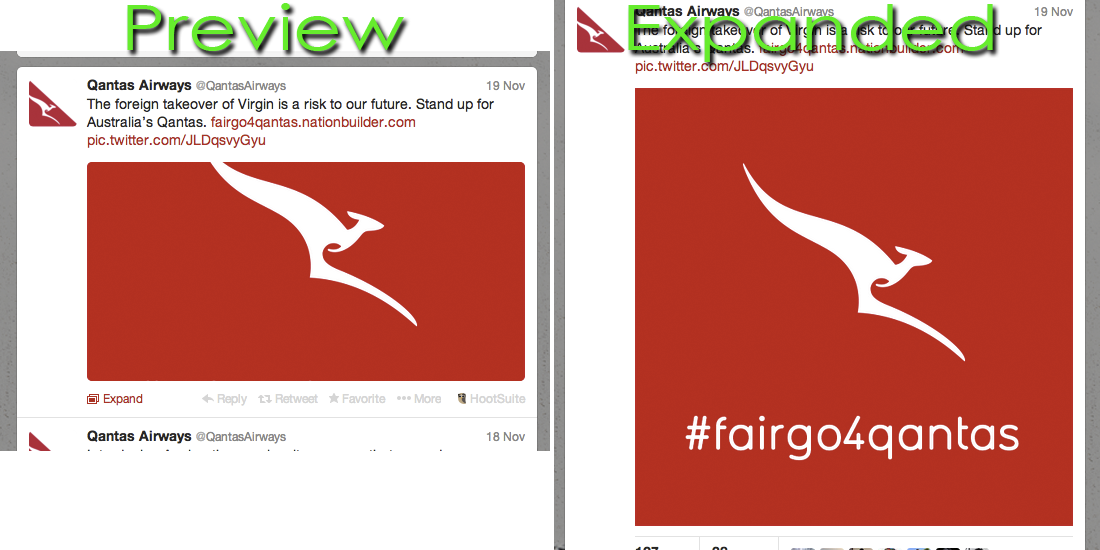 Here are some preview images that in my opinion worked well with Asda using 2 preview images to create an effect that worked really well:
Nike kept it simple and used an image for which the entire content was visible in-stream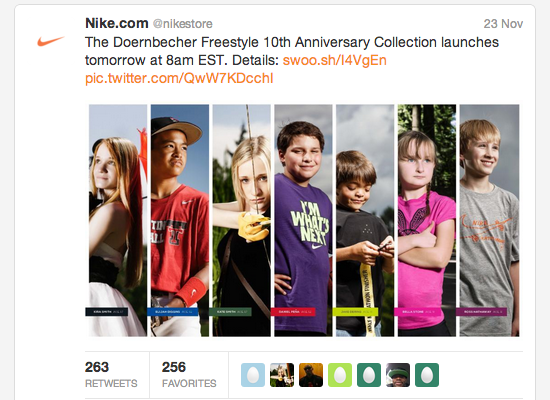 Spotify optimised their image where the preview showed a call to action and when expanded, revealed more specifics of the action to be taken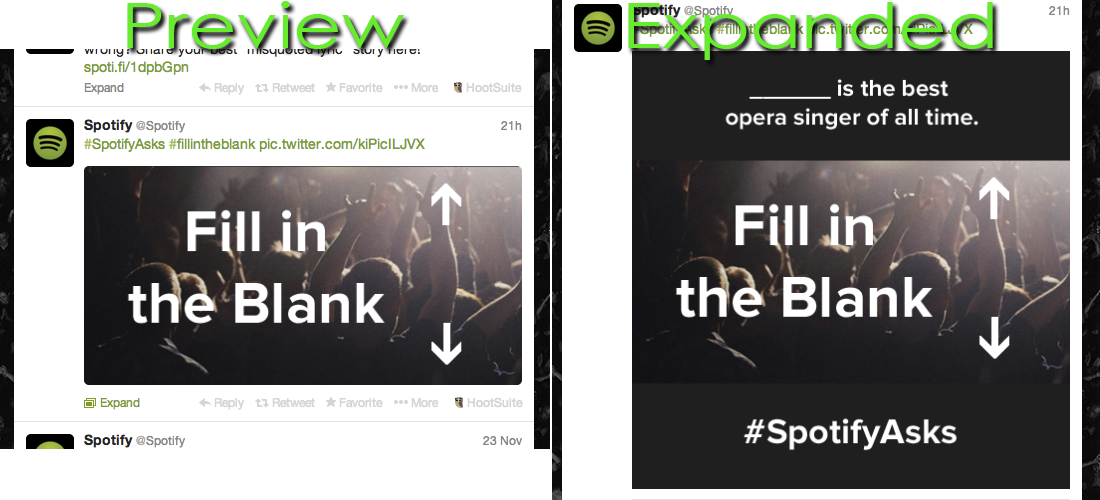 Asda used two preview images to create an effect that you just have to see for yourself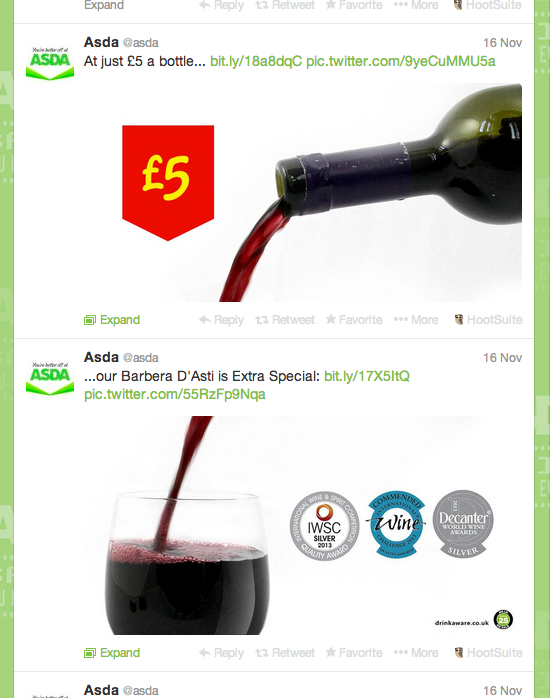 How To Optimise Images For Twitter In-Stream Previews
After doing a bit of searching around and testing out a couple of different image sizes, it appears that the way to go for preview images that show the entire contents when expanded is by using images with a 2:1 aspect ratio eg. 1000 px width, 500 px height. For images that expand to reveal more content such as what Spotify has done, what worked well for me was a 1:1 square image (dimensions below) where if the square image were divided into 4 equal horizontal parts such as the image below, the 3rd and 4th quarters (green) make up the preview portion.
Do you see yourself using in-stream previews for your Twitter marketing efforts?