In case you didn't already know, WorldRemit, one of the go to online money transfer providers has smartphone apps that allow users to send money on the go. Within a few short clicks, you can setup a recipient and make the necessary transfer and depending on what method you chose for them to receive the money, it can be available to the them instantly.
The iOS app (and Android app) (See the WorldRemit iOS & Android apps here) recently had an update that added features that could see people save a little more money on remittances. The two significant updates were exchange rate and promo code notifications.
(continued below)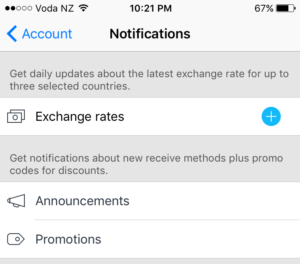 Exchange Rate Notifications
With international money transfers, one of the main determining factors on how much you can expect to pay is the foreign exchange rate. That said, exchange rates is not something that a lot of us watch on a daily basis. We may once in while (such as when the time comes to send money to family or friends) take a look to see what they are. On other occasions, there may be favourable fluctuations that are reported in the media that catch our attention and prompt us to act on a transfer.
Acting at times when there are fluctuations such as for example, when the New Zealand dollar trading high against the US dollar, it may signal a good time to make a transfer to Zimbabwe (which currently trades in USD). Taking advantage of this will see you saving money on a regular set amount that you may be sending abroad on a regular basis. Or, it may see you being able to send the same amount that you usually send and the recipient receiving more than they usually would thus allowing that money to potentially stretch a little further.
The recent update takes the hassle out of having to actively keep an eye on exchange rates. The recent iOS update allows users to select up to three countries for which you would like to get daily updates on exchange rates.
Promo Codes Notifications
Promo codes are things that many people search for on the internet or social media when the time comes for them to purchase a product or service. Some retailers and service providers make it easy for their customers and send out regular updates with discount promo codes via various channels such as email and social media.
The current version of the WorldRemit app takes the hassle of trying to look around or figure out if there are any discount promo codes available. The app sends out notifications on the latest promo codes that will see you getting discounts on transfer fees and airtime top-ups.
WorldRemit is already a good place to turn to for international money transfers. It is much cheaper than going through traditional banks and their services and fees match or even better those offered by some of their competitors. They can facilitate transfers to most geographic locations around the world. The process of setting up an account, getting verified and making a transfer is pretty simple and straightforward; see my review here A WorldRemit money transfer review: the good & the bad.
If you ever need to transfer money internationally or find yourself in a situation where you need to make regular international transfers, give WorldRemit a go (get your first transfer fee free) and then try out the app and see if you'll save any money on remittances.